Posted: September 1, 2013 - 12:58am
Farrington rallies past Castle, 20-14, in overtime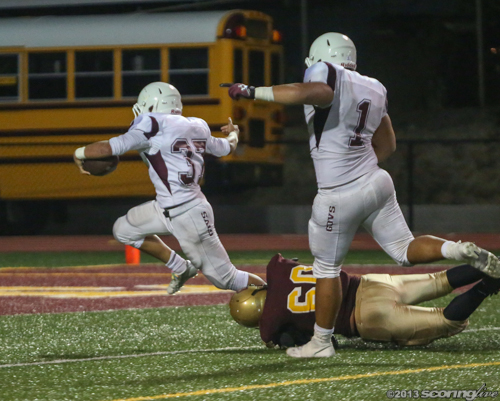 Farrington's Titus Lave returned a fumble 19 yards to tie the score up with Castle late in the fourth quarter.
Sylvia Lee | SL
KANEOHE — It took some extra time, but the Farrington football team finally picked up its first win of the season Saturday night.

Sanele Lavatai scored the game-winning touchdown on a 10-yard run in overtime to lift Farrington to a 20-14 win over Castle in an Oahu Interscholastic Association Red East Conference game. The Govs, who improved to 1-2 overall and 1-0 in the Red East, rallied from a 14-0 deficit at the start of the fourth quarter to beat the Knights for the fourth consecutive year.

"We practice these situations and really it's just about having faith in each other and that's what we do," Farrington coach Randall Okimoto said. "We talk about fighting all the way through four quarters, through overtime and we practice the situation. Of course, when the time comes, that's the big test and we passed the test tonight, so I'm proud of the guys."

Things were looking bleak for the Govs after Castle defensive back Colby Kruse intercepted a Jathen Chaffin pass to give his team the ball at their own 35-yard line with three minutes and 15 seconds to play.

However, after a two-yard loss on a first-down run, the Knights opted to throw the ball on second down — which resulted in a Stephen Lee incomplete pass that stopped the clock. Lee stood out of the shotgun on third-and-12, but the snap was low and went between his legs and he was unable to recover the loose ball. Instead, Farrington linebacker Titus Lave picked up the pigskin just inside of the Castle 20-yard line and returned it 19 yards for the scoop and score. The ensuing extra point by Kekoa Sasaoka tied the score at 14 with 2:05 left in regulation.

"Our defense played well. They made things happen in the second half. There were a couple big plays that we gave up that I was disappointed in, but all in all, they played well. We got the scores when we needed, so I'm just happy with the win."

Castle drove to the Govs' 46-yard line, but punted away and Farrington took a knee on the final play of the fourth quarter to take it into overtime.

The Knights began the extra period on offense, but could only gain a yard on its first three plays to set-up a potential go-ahead field goal. However, Kyle Urasaki's try from 36 yards out was partially blocked by Dayne Ortiz and Castle came away without a score. The officiating crew initially threw a penalty flag for roughing the kicker on the play, but after a timeout by Okimoto — during which he spoke with several officials — the call was reversed and instead of first-and-goal from the 10 for Castle, Farrington took over possession.

"Oh yes, (I was) lobbying for the tip on that last one and I saw it, our guy did tip the ball. It was a hell of an effort on his part," Okimoto said. "You could see how the flight of the ball changed. That's the reason why I called the timeout."

On the Govs' first play of their ensuing drive, Lavatai ripped off a 15-yard run to set-up first-and-goal from the 5. After a Farrington false start on the next play, Lavatai bursted up the middle and bowled over a defender into the end zone for the winning score.

A Farrington comeback appeared unlikely with Castle knocking on the door of a two-score lead early in the fourth quarter. Leading 14-7, Lee found slotback Sonny Oana on a shallow crossing route, but as Oana neared the goal line, Govs' linebacker Manly Williams punched the ball free from Oana's grasp and through the end zone for a touchback.

"That was huge," Okimoto said of Williams, who has verbally committed to the University of Hawaii. "He's a senior, he's our captain and that was a hell of a play."

Castle opened the scoring two plays into the second quarter on a 2-yard touchdown pass from Lee to Joseph Lilio. The Knights converted three third downs on the nine-play, 62-yard drive that took 3:42 off the clock.

Lee extended his team's lead to 14-0 on a 8-yard touchdown pass to Kyle Urasaki later in the second quarter.

The third quarter went by without a score before Farrington finally got on the board four plays into the fourth on a 10-yard touchdown run by Roger Boyd. Sasaoka made the PAT to pull the Govs within 14-7 with 10:35 to play.

Farrington posted just 161 yards of total offense, but 114 came after halftime. The Govs played without starting quarterback Montana Liana, who underwent knee surgery Wednesday. Chaffin finished 9-of-20 passing for 104 yards.

Okimoto said earlier in the week that he expects Liana to return in time for Farrington's next game Saturday against Kailua.

"We were very sloppy and we got a lot of work to do, but it's always good to get that first win, build some confidence and just move onto the next game," Okimoto said.

Castle was limited to 95 yards of total offense — just 20 coming after halftime — including negative 59 rushing yards. Lee completed 13 of 31 passes for 154 yards. It was the second overtime loss in as many weeks for the Knights, who lost to Windward rival Kailua, 23-20, last week.

"You've got to give credit to Castle," Okimoto said. "They're under-manned, they're undersized, they got guys going both ways and they just fight hard — two weeks in a row, so you've got to feel for their team and I just want to encourage them to keep fighting every week."
The last time Castle beat Farrington was in 2010, when it won by a score of 29-28. The Knights return to action Friday with a home game against McKinley.
Reach Kalani Takase at

[email protected]

or follow him on Twitter at @SLKalani.
Note: All comments must be approved by an SL moderator prior to being published.

Sanele Lavatai finished off the night with 34 yards on the ground, including the game-winning touchdown run from 10 yards out.
Sylvia Lee | SL
Farrington's Titus Lave (37) and Sanele Lavatai (43) celebrate after a score in the second half against Castle.
Sylvia Lee | SL
Castle WR Joe Lilio hauls in a first quarter touchdown from Stephen Lee.
Sylvia Lee | SL
Castle's Sonny Oana attempts to make a juggling catch with a Farrington defender on his back.
Sylvia Lee | SL
back to top